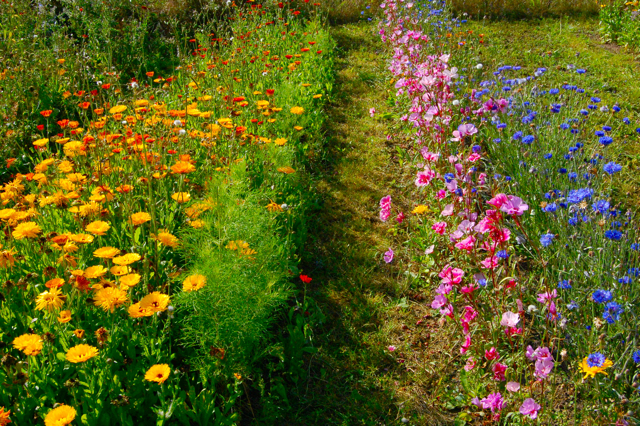 Florists will not be needed once one has created a great cut flower garden. A cut flower garden will allow one to grow fresh beautiful bouquets many times over a course of a year, and a lifetime. Cut flower gardens can be everything you want them to and more, or they can come short if not cultivated properly. This article looks at how to keep your cut flower garden looking the best it possibly can.
Choose a design for a cut flower garden that meets your needs. Typically regardless of specific need cut flower gardens should have a path adjacent to Cut Flower Gardenthe flower beds that will allow for one to stand while cutting flowers. Also the design of the cut flower garden should offer the flowers natural sunlight, with some protection of flower killing elements like snow, and wind. You want to create a natural barrier that will keep the cut garden out of harms way. Some of the best barriers include rocks, fences, and shrubs. The more you keep out of your garden the more you can get out of it in the end.
Imagine your bouquets and what they will look like for your cut flower garden. Create your garden based upon your vision of use for the cut flower garden. If you are one that sees many a roses growing from the ground, you should make adjustments for that. If you on the other hand like the idea of tulips or sunflowers growing, you might make your garden smaller to accommodate such a need. Always think in terms of expansion of your garden.
Chances are if you plant and grow your cut flower garden for a few seasons, you'll want to do it again bigger and better the next time. Always give yourself enough room to expand, so you are not limited in your space. Make sure you also make each row wide enough for any large plants or flowers you plan on growing in the garden.
Plant your flowers together for an even growth time table. By planting all your flower seeds in their beds at the same time in the cut flower garden, you will have similar times of growth. This will allow cut flower garden owners to pick entire bouquets when the flowers bloom together. You can also plant flowers for each season together. If Christmas is coming up, plant some red and green Christmas flowers. If Easter is on the way, feel free to plant some Easter lilies. You can also plant larger flowers in your cut flower garden alone to allow maximum room for growth. Make your cut flower garden shine by picking out what is going to be planted in advance.
Choose plants to cut that have long shelf lives. Such plants that will last a long time in a vase in a home, like lilies or snapdragons. By selecting such plants the owners will reap longer term benefits from each flower they cut. In the end your sweetheart will love you for being so selective about your cut flower garden choices.