People would be surprised at what light can do and in some cases the proper projection of light can do.  The all powerful feature of light simply cannot be ignored no matter the space as long as it is meant to be presentable.  For something that is located in the outdoors the landscaped gardens can create effects with light by utilizing tall trees and thick undergrowth to accentuate some shades over others.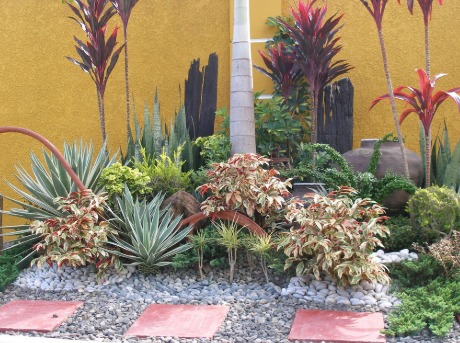 High Quality Landscape Work
Often with professional landscape artists, they tend to produce works that tends to stand apart from competing works for the manner in which light is focused to some parts of the garden as well as how the elements are handled in the presentation as well.  In most instances it takes a proper study of the matter to understand in depth the role of light and how best to take advantage of the different streams of light possible during a typical day.  
It must be pointed out that daylight too differs in appearance during the course of the day.  The mornings are more of a blue hue as compared to the more orange or yellow color that the evening produce.  The best and most innovative of uses of the light and its effects are had when a good study is done on how lights produce color.  It also helps to know how to create the right mood with the proper use of lighting effects too.  
The Question Of Artificial Light
Most gardens use light if they are going to be used at night or even in failing lights of some seasons.  Here the focus is on concentrated sources of light and it differs from the diffused daylight in the fact that the shadows produced by such lighting are sharper in form.  It can thus be used to create separations and divisions than just illuminate an area.  
Another important of artificial lighting is that it is possible to control the light as well as the intensity of the light.  This is a factor that is quite missing in sunlight.  There are a lot of landscape designers that have taken on fame for the innovative ways that they use light on surfaces and on vegetation.  
The Question Of Budget On Hand
Usually it is the client that specifies the budgetary limits that is available for use in each project.  Most renowned landscape designers would have a certain minimum standard that they function under and people intending to use the services of such a person would be looking to afford his style of work than get the designer to work to specifications that would not suit the situation.  
A lot of people would say budgets are typically what define a designers' work.  Far from it.  It is true that the typical designer does function to certain limits but it is always the quality of a worker to be able to bring out work to any given budget.  Not every landscape designer can work to this level of performance.